<< Home
No Agenda Mobile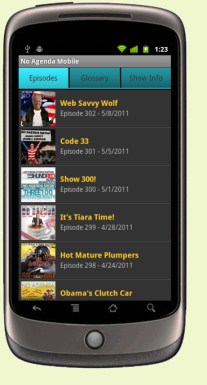 FEATURES
- Stream the last 10 episodes (Wi-Fi*, 3G or LTE required).
- Skip to any point in an episode by tapping a location on the timeline.**
- Glossary section to learn the history and meanings of recurring themes and catch phrases.

Plans for future versions of the app include show notes and live stream integration. A significant portion of the proceeds of No Agenda Mobile will go to the No Agenda Show.

* You may need to modify the Wi-Fi sleep policy on your phone to prevent playback from being interrupted when the screen turns off (ex. Settings | Wireless & networks | Wi-Fi Settings | Menu Option - Advanced | Wi-Fi sleep policy | never"

** This feature may not be supported on all phones due to some manufacturers (Motorola, Samsung) not including or enabling a required media framework. Please test this feature with your phone within the trial period (5 minutes after purchase).
Have feedback or need support? Email us: contact@droidspot.com